The schedule of uniform fitting for new student grade 7 and grade 10 Academic Year 2018-2019:
Date : 5 – 9 March 2018 (Monday – Friday)
Time : 1 p.m – 3 p.m.
Venue : U 402
The procedure for ordering uniform is as follow:
1

Do the fitting according to the schedule above.

2

Order online:

Go to the school website

Click the Uniform Order Form and follow all the steps.

The order form (invoice) will be sent automatically to your email address

3.

Complete the payment:

BCA Account No. 288-320-6363
SMAK PENABUR Kelapa Gading

Remark: please state the Invoice Number when you do the payment

example: U-Gr7-001

4.

Print and submit 2 sheets of invoice and the payment receipt to the committee, latest by Friday, 9 March 2018 at 3 p.m.
Note:
All students are encouraged to do the fitting before ordering as any changes regarding the size will not be accepted once the payment receipt is submitted to the committee.
You can find the link for ordering at the bottom of this page.
Please do not hesitate to contact us through email This email address is being protected from spambots. You need JavaScript enabled to view it. should you require any further information or assistance.
Thank you for your attention and cooperation.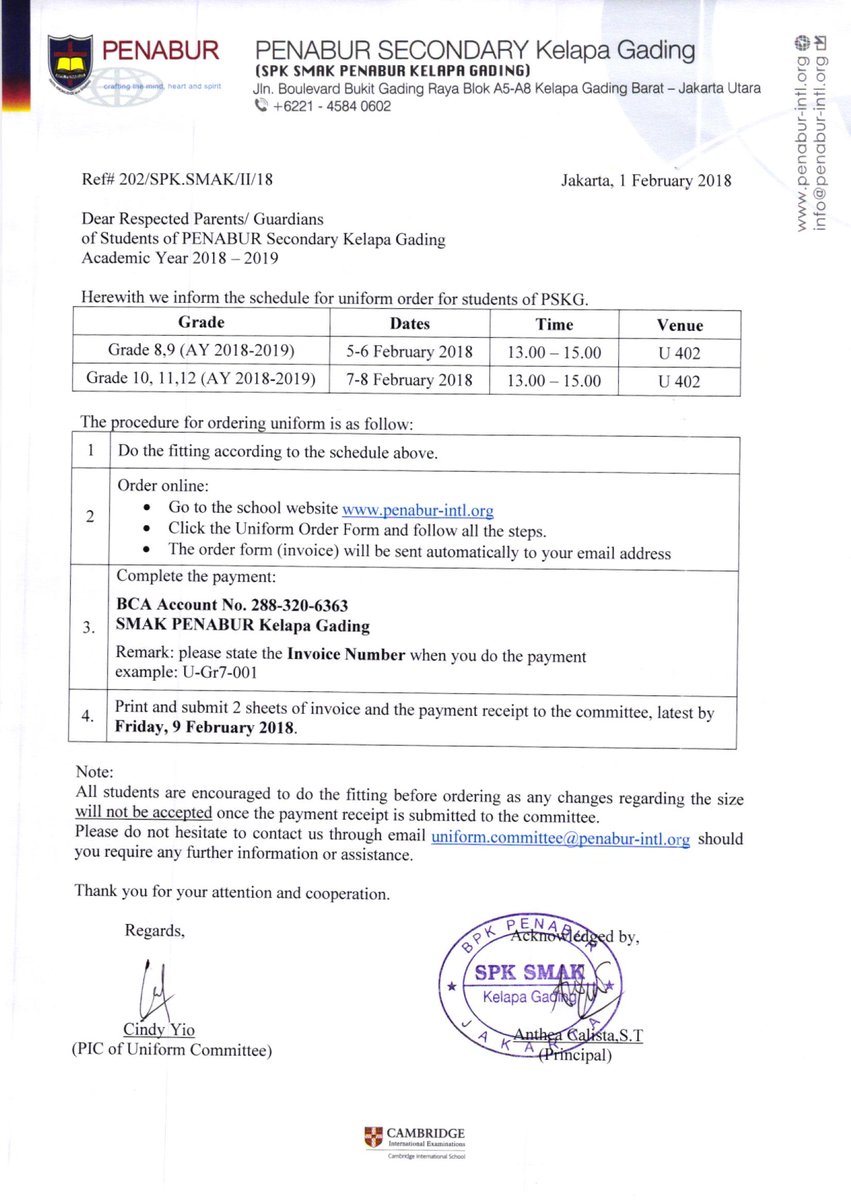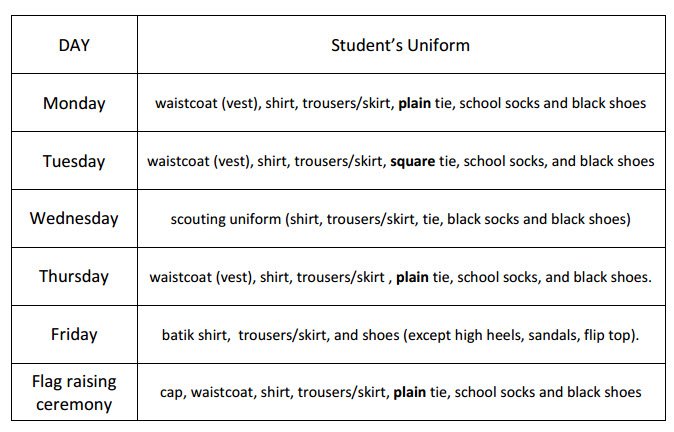 UNIFORM ORDER FORM LINK HERE: https://goo.gl/e6UCXb
Below is the testimony from one of our students, Elizabeth Amy Santoso regarding disadvantages of leaving after IGCSE and the challenges during the transition due to this decision.
Disadvantages of leaving after IGCSE and the challenges during transition due to this decision
1. Academic credit loss
If you enroll in a community college (with the intend to transfer to a four-year college/university), it is most likely that you will lose some academic credit to some extent. One example is one of my ex-classmates who transferred from a community college to a four-year university lost, maybe one-third of the credits he earned during his time in community college.
2. High school completion
Although I managed to attend a four-year university without graduating high school, the university still requested some form of a high school completion certificate which I did not have since I never completed high school. It took some time to resolve and thankfully they accepted my AS-level results as a substitute. Not having a high school completion letter/certificate limits the choices of schools one can apply to.
3. Academic rigor
In high school, teachers generally know their students and can pay attention to their academic well-being. Class sizes in university, particularly first and second year classes are significantly larger. Lectures can have 200 or more students. You are in control of your academic well-being. You can choose to skip lecture if you want, the teacher won't notice, though you are responsible when you fail the exam or miss an assignment.
I walked into an introductory coding class, not knowing anything about it. Although it was an introductory class, my professor taught us like he was teaching students with prior coding experience. In high school I usually spend up to three hours on homework. I needed at least ten hours on every homework for this class. This explains the academic expectations in university, therefore, taking time to improve study habits and learning to study independently might be a better option rather than leaving early..
What do you do when you need academic help? Higher education institutions provide tutoring services and professor office hours for students. This is similar to "les" in Indonesia. Most of these resources are included in school tuition, and you're better off spending an hour with them answering your questions rather than staying up late trying to finish your homework.
4. Knowledge
I came to university not knowing a single thing about engineering. Walking into students who have had past internships and had taken some engineering classes in high school made me feel less smart than they were. Many high schools in the United States offer a wider range of classes. Some schools offer classes including Psychology, Computer Science, Film Production, etc. Since Indonesia (or Cambridge) has a different education system than some countries, the adjustment might be difficult for some students which explain that staying for year 12 will allow students be close to par with American university students.
Elizabeth Amy Santoso <
This email address is being protected from spambots. You need JavaScript enabled to view it.
>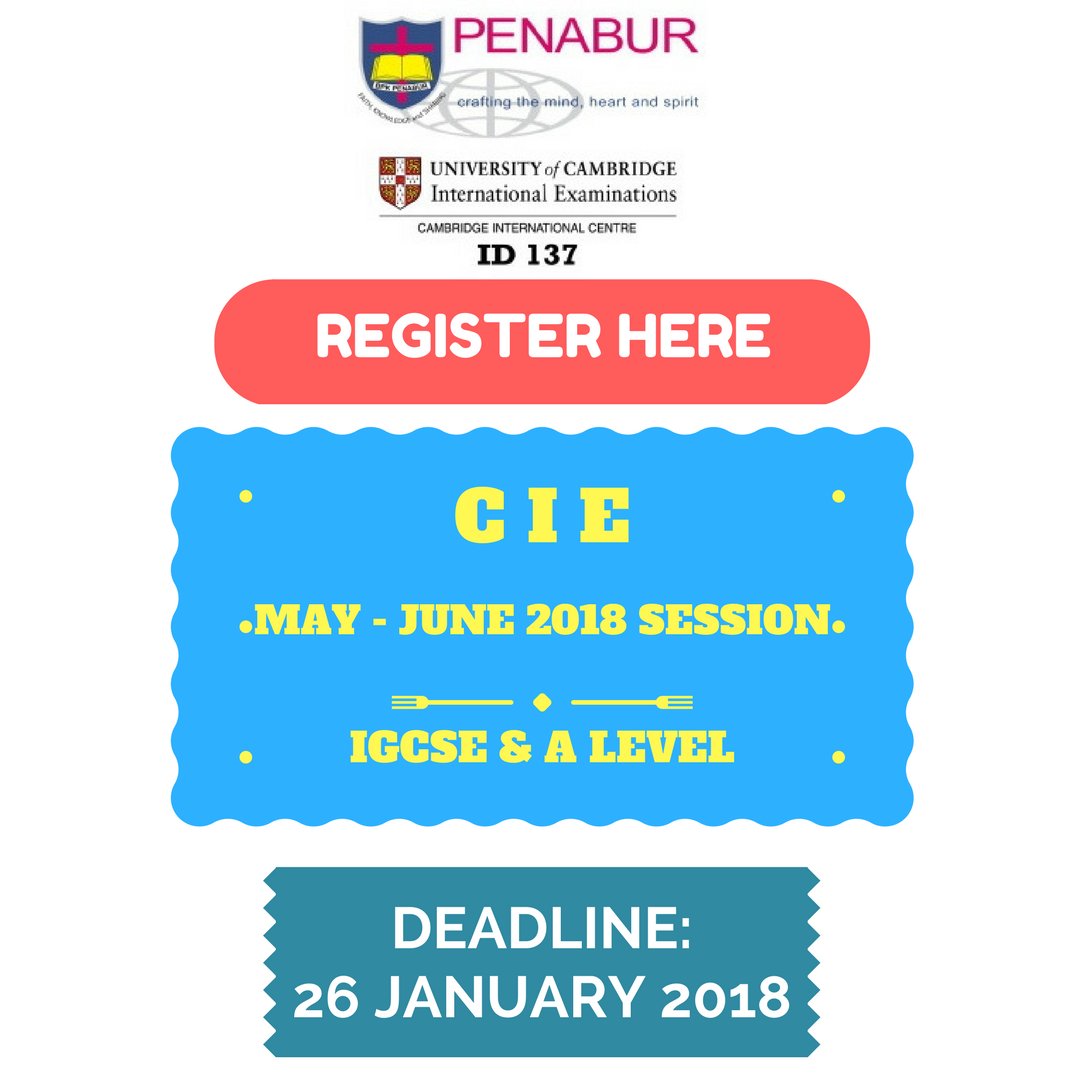 Download Letter of Confirmation and Teacher Recommendation:
IGCSE Level : Download Here
AS Level : Download Here
A2 Level : Download Here
A Level : Download Here